---
BESTSELLER
Free Glucometer with on shopping cart total of ₹2500 or more Buy for at least for 2 months to see visible results
Order On Whatsapp
View full details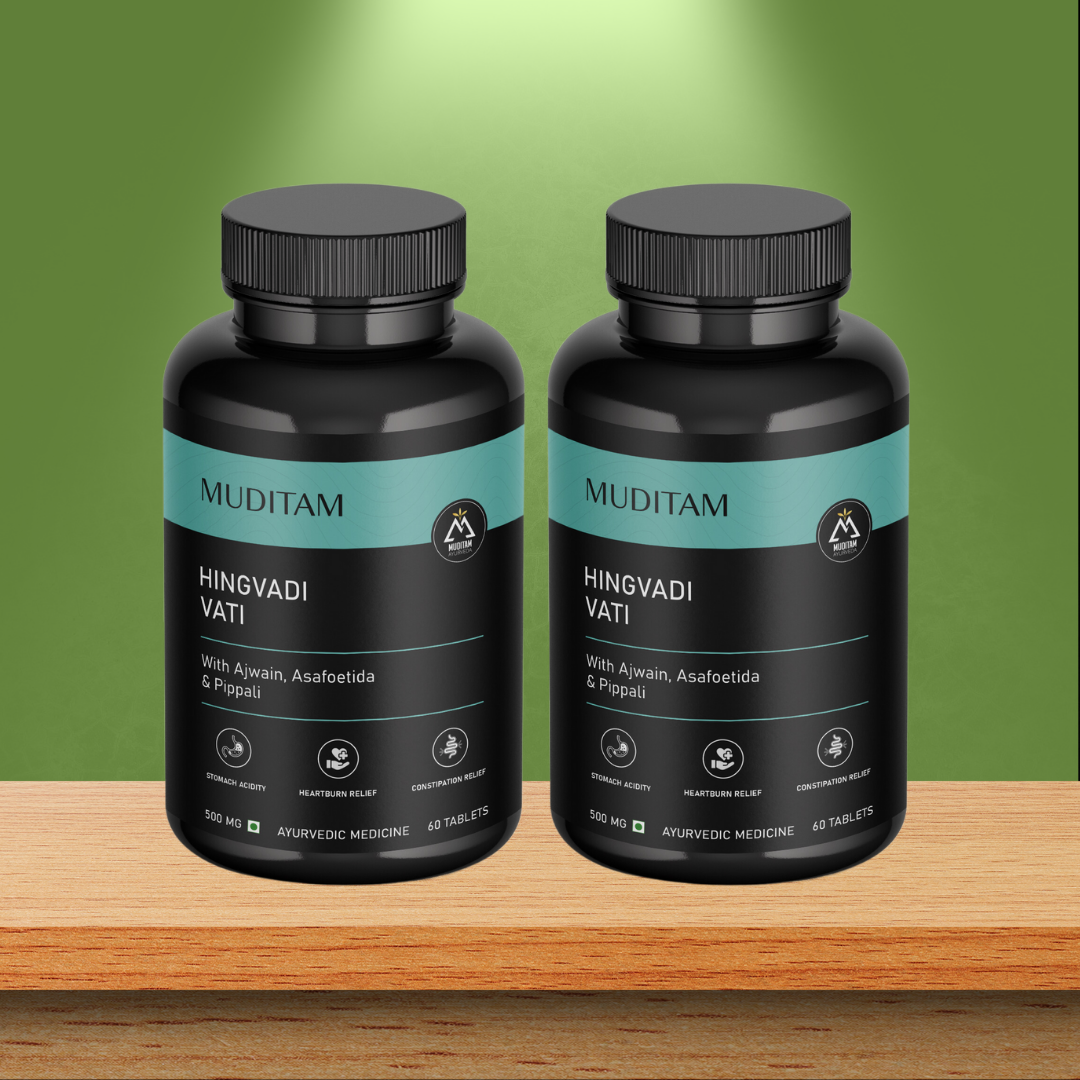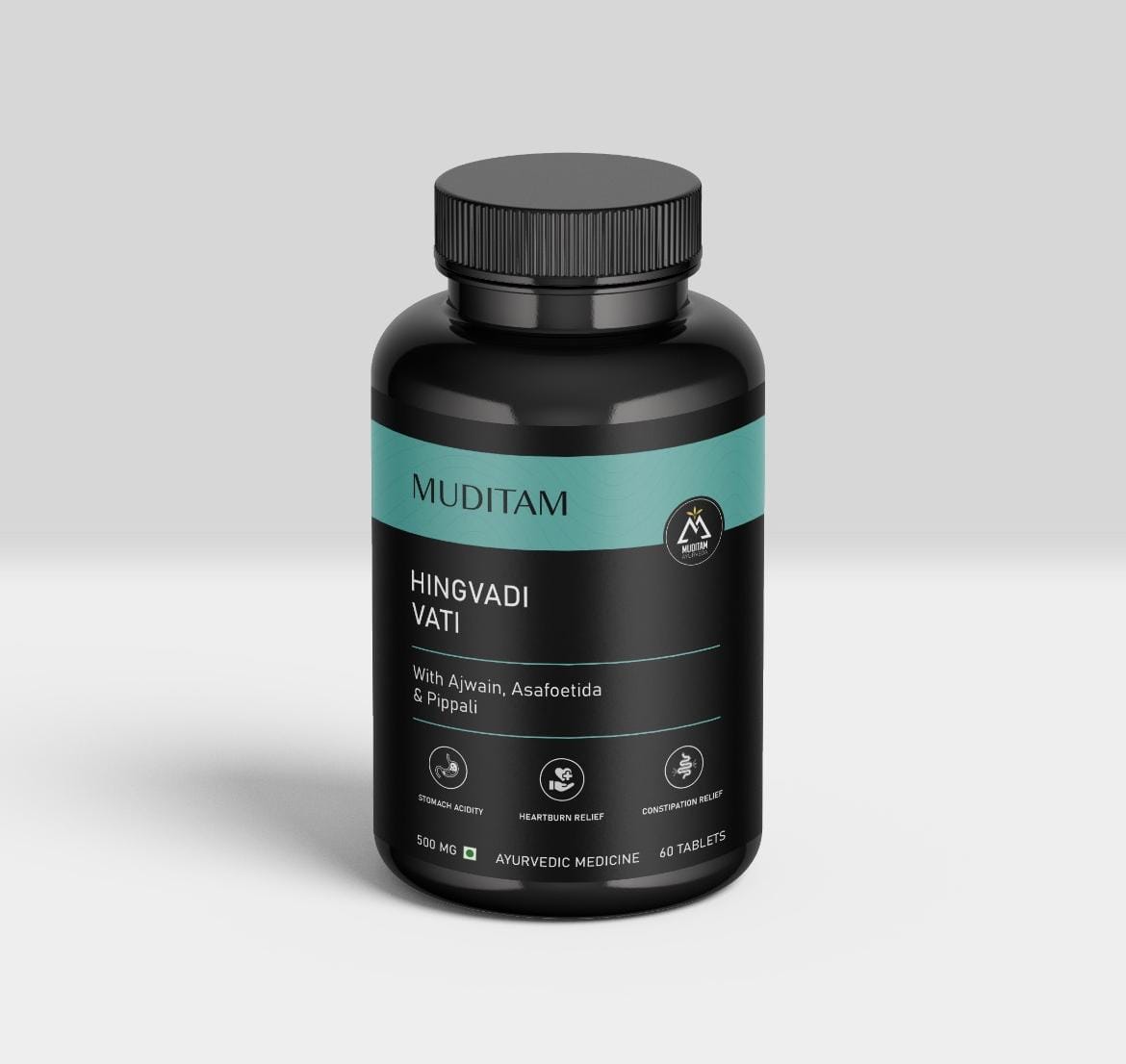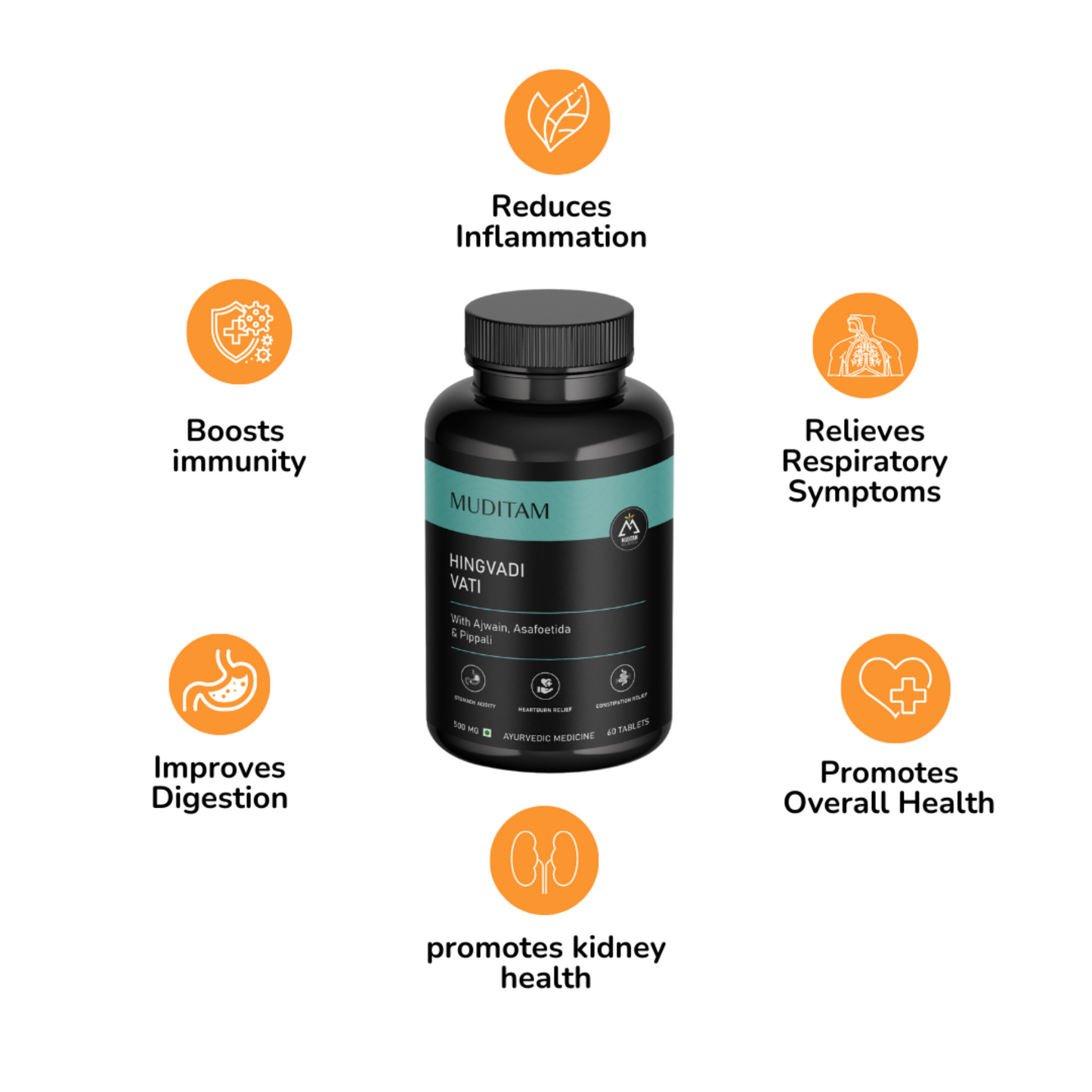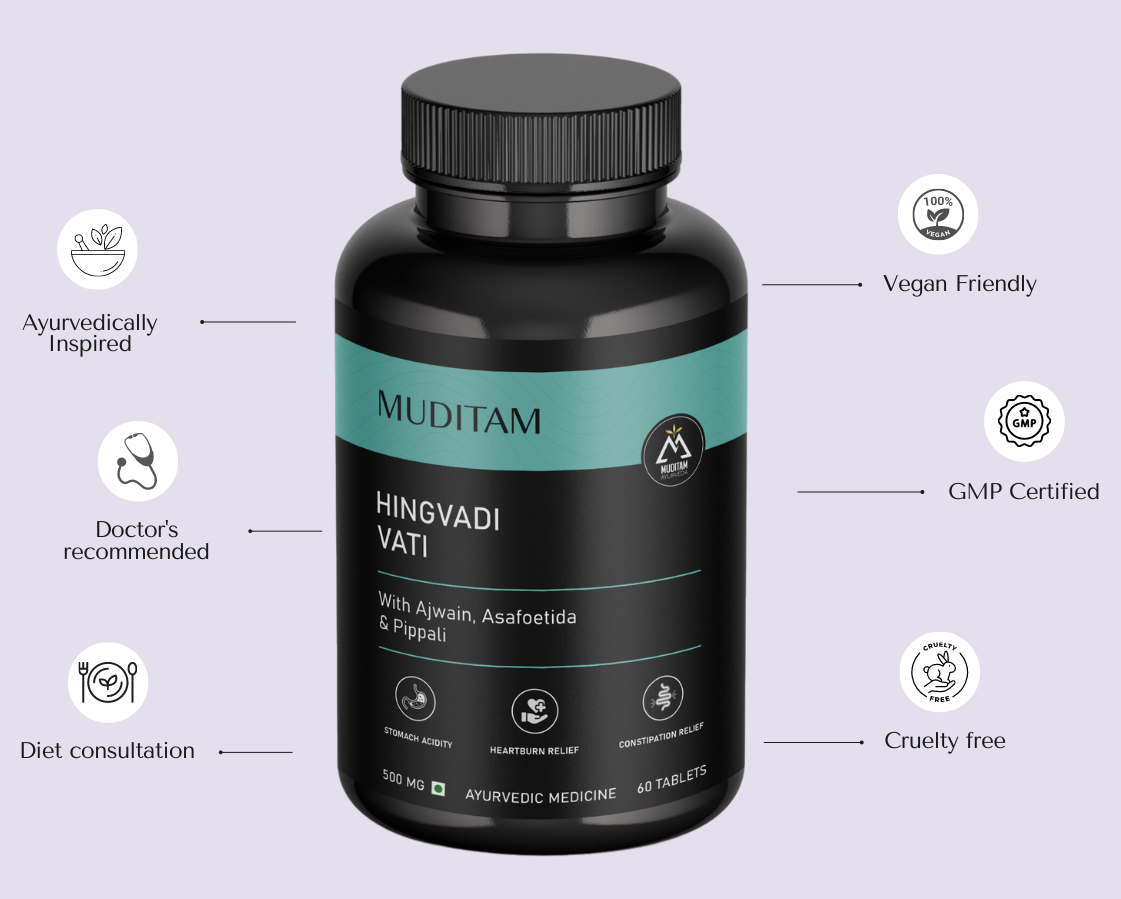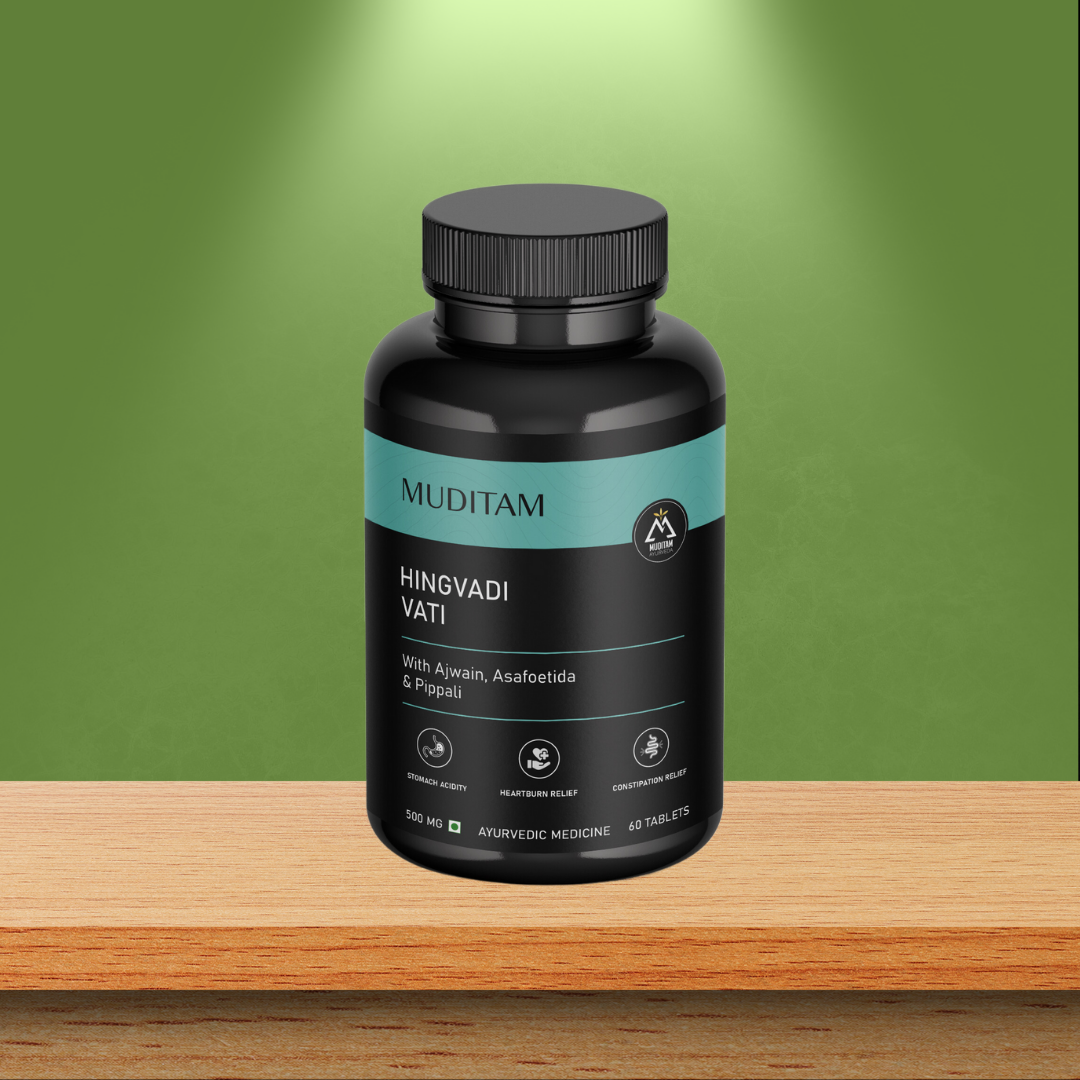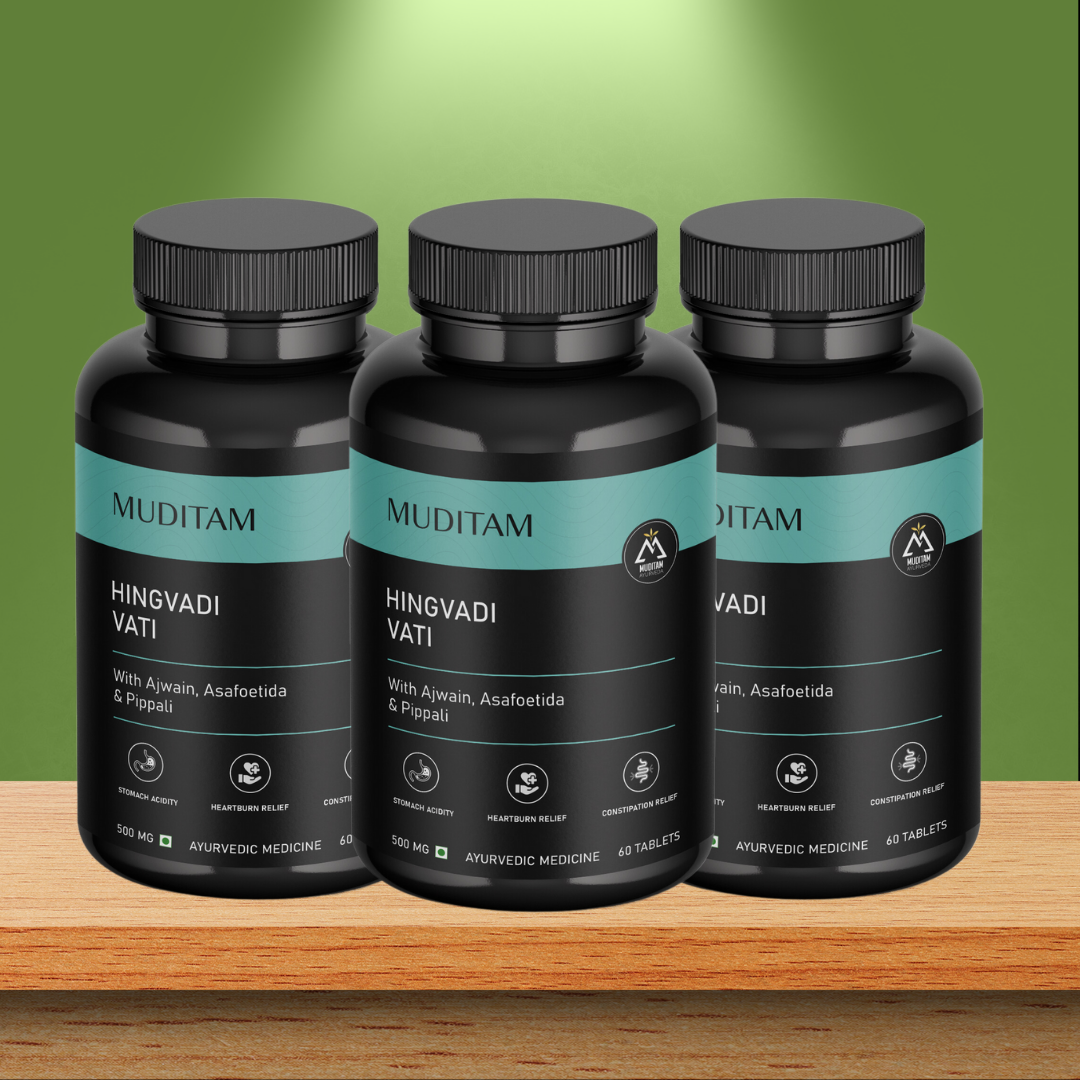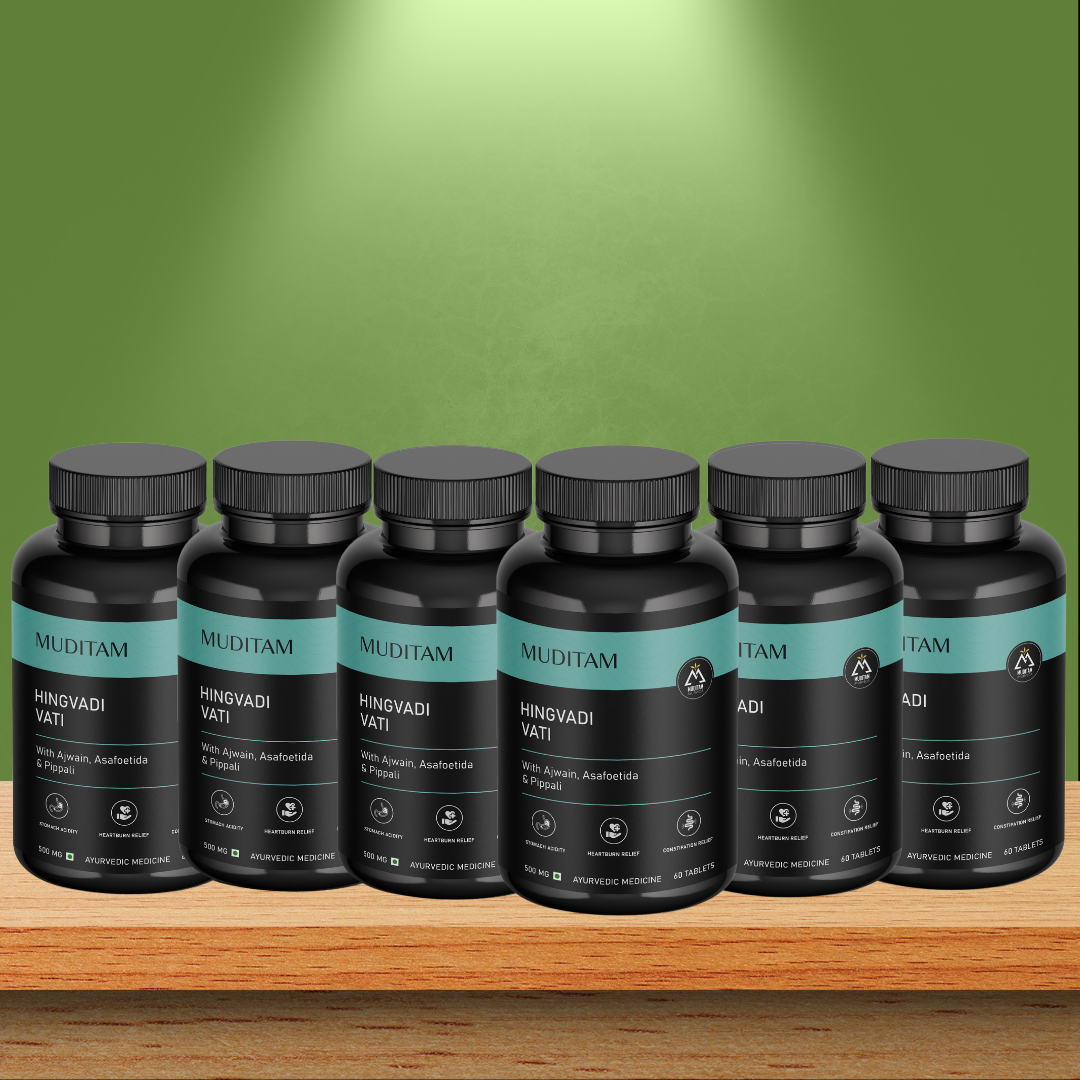 Suitable for
Gas/Flatulence
Bloating
Constipation
---
When to Consume
Twice-Thrice a Day
Chew one Tablet After Meal
Whenever you Feel Gassy
20,000+ Success Stories
Digestion Improved
2 Months
I have very week stomach. I was not able to digest heavy food. After heavy food or even dal, I have gas and heaviness. But when I start taking this HIngavadi Vati, no gas. I feel very light. My food is digested good. Thank you Muditam.
Bloating Improved
1 Month
I always skipped my yoga class 3-4 times a week or any travelling or family functions, because of shame. I always have indigetion and I used to pass gas with loud noise which embarrassed me. I feel very bad. It was not like that always but since I started Diabetes medicine, this started happening. Now I start this Hingavadi Vati, my digestion is very improved. I dont have gas and I feel active.
Constipation Improved
1 Month
I drink lots of water, I eat healthy but still getting fresh in morning is difficult. Even after 2ltrs of hot water, hours are wasted to get good poop. I still feel unsatisfied with my poop. I had been consulting Muditam for my Diabetes, they guided me with good diet. I started this Hingavadi Vati. Now I get fresh in morning and stay fresh all day. My mood is happy, my digestion is good.
Acidity Improved
15 Days
I take Acidity capsule in morning and when I miss, my chest burns of acid. I love outside food but bcz of this, I can't eat anything. I only take ghia, tori so it easily digest. My daughter gave me this Hingavadi Vati, in 15 days all my digestion issues are gone. No Acidity, No gas, No burning, No constipation. Very good product.
Only Good Choices!
Vegan Friendly
Ayurvedically Inspired
GMP Certified
FSSAI Certified
No Side Effects
Non-GMO
Gluten Free
Dairy Free
Sugar Free
What does the product do?
Improves Digestive Function
The product enhances digestive processes, aiding in better nutrient absorption and overall gut health management.
Reduce inflammation in the Gut
By combating inflammation, the product helps alleviate gut-related discomfort and supports a healthier gastrointestinal environment.
Promotes Overall Gut Health
By improving the digestive functions, it puts positive impact on overall gut health. A healthy gut is linked to better immune function and various other aspects of health.
Expert Advice that Works!
Consult our Diabetes Experts or take the Self Assessment Test to get personalized solutions
BEFORE AND AFTER MUDITAM
How long will it take?
.
When compared to other digestive supplements, Hingvadi Vati has a lower risk of causing any adverse side effects.
If you're looking for a natural and reliable way to improve digestion, Hingvadi Vati is your answer. It's safe, effective, and affordable.
Unlike other digestive supplements, Hingvadi Vati is made with organic and sustainably sourced ingredients, making it an environmentally friendly option.
I've tried a lot of different digestive aids, but Hingvadi Vati is by far the best. It's made a huge difference in my life!
This product is excellent for people with acid reflux or bloating. Hingvadi Vati has helped me to digest food more easily without any discomfort.
Every diabetic person is different and every question is special. Solve your queries with us
What is Hingvadi Vati used for?

Hingvadi Vati is primarily used in Ayurveda to alleviate digestive issues, including flatulence, indigestion, and constipation.
How should I take Hingvadi Vati?

The typical dosage of Hingvadi Vati is 1tablet taken after meals by chewing. It can be taken once or twice a day depending upon the discomfort.
Are there any side effects associated with Hingvadi Vati?

Hingvadi Vati is generally considered safe when taken in the recommended dosage. However, it's essential to consult with our Diabetes Expert to ensure it's appropriate for your specific needs and health condition.
Can Hingvadi Vati be used for IBS (Irritable Bowel Syndrome)?

Hingvadi Vati is not typically recommended for IBS, as it is primarily designed for simpler digestive issues. IBS requires a more tailored approach to treatment and lifestyle modifications.
Is Hingvadi Vati suitable for long-term use?

Long-term use of Hingvadi Vati should be discussed with our Experts, as they can assess your specific condition and recommend the appropriate duration for use.
Can pregnant or nursing women take Hingvadi Vati?

It's best for pregnant or nursing women to consult their physician before using any Ayurvedic supplements, including Hingvadi Vati, to ensure it's safe for their individual circumstances.
Can I take Hingvadi Vati with other medications?

It's essential to consult with our Experts, especially if you are taking other medications, to ensure there are no interactions between Hingvadi Vati and your current prescriptions.
How long does it take for Hingvadi Vati to show results for digestive issues?

The time it takes to see results can vary from person to person. Some individuals may experience relief within a few days, while for others, it may take a few weeks. Patience and consistent use are key.
Are there any dietary restrictions while taking Hingvadi Vati?

We often recommends dietary modifications to complement treatment. We can suggest specific dietary guidelines based on your condition, but typically, it's advised to avoid heavy, greasy, and gas-forming foods. To connect our Experts, contact us at 89891-74741
Can Hingvadi Vati cure digestive disorders completely?

Hingvadi Vati can provide relief from certain digestive issues, but its effectiveness may vary. We focus on holistic healing, including diet and lifestyle modifications, so it's important to address the root causes of digestive disorders in addition to using Hingvadi Vati.
Choosing a selection results in a full page refresh.
Opens in a new window.